FQ10ers,
Happy Friday!!! Man it has been such a GREAT week. We have been open for one full week and we have been getting some unbelievable feedback. I have really enjoyed seeing everyone and getting the energy back in the building!  
As we head into the weekend, I want to say Happy Father's Day to all those dads out there! One of the things I am most grateful for in my life today, is my relationship with my Dad. If you have not met my Dad, I hope you get the chance to as he is one of the coolest guys you will ever meet. You can find him at Fitness Quest 10 making his rounds and chatting with the staff and clients. His name is Jim, but I call him Dad, Daddio, Jimbo or Pops. He is the best Papa ever to my son Knox and the rest of the grandkids. My Dad has had such a huge influence on me becoming the man I am today. 
Last year, my wife and I bought a house here in Scripps Ranch and my parents moved in with us to help us during these busy times of our lives. It has been such a blessing having my parents living with us. I love seeing my Dad and son playing together every day. Knox loves his Papa! Also, my Dad is a contractor and him and I are always doing projects around the house! But one of the things I enjoy the most has been training my dad at FQ10! My brother and I each train him and a group of "senior studs" a couple times a week. I will cherish these times with my dad forever.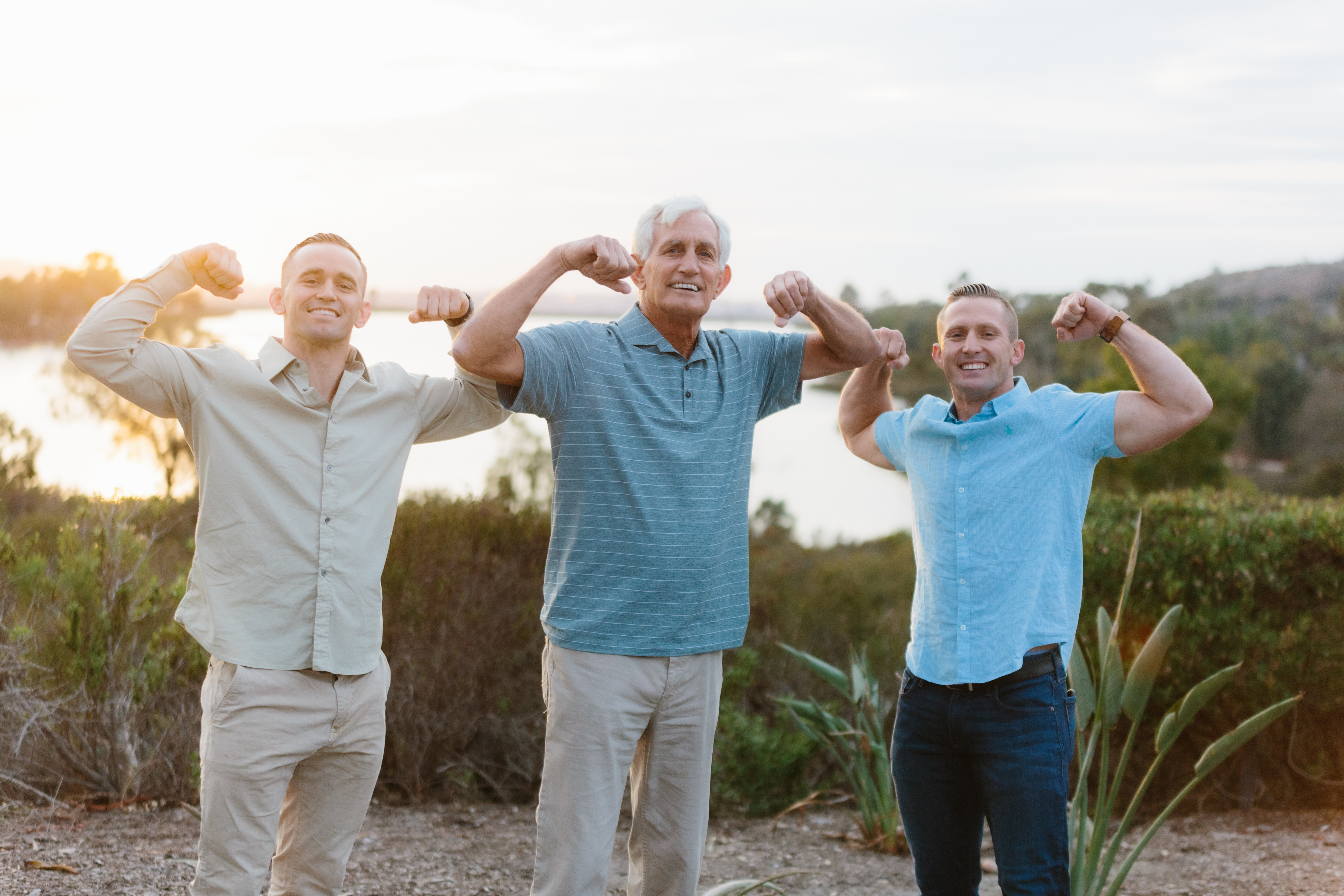 Much love to you and your family and Happy Father's Day!
Here are some important updates…
1. We are OPEN FOR MASSAGE!!! Today is our first day back giving the world's best massages. I know that for many of us, it has been way too long since we had a massage. Well, now is your chance to get that recovery that you need. Call now to schedule a massage for you or buy a massage gift certificate for dad for Father's Day! 

2. Looking for a great gift this year for Father's Day?? Get your dad some private training sessions with our Buy 6, Get 3 Free introductory offer (new clients only). There is no better gift than the gift of health and this is a great way to help get dad back in the gym. 

3. We want your feedback! As we look to get back to a more expanded schedule we need your feedback to make these decisions. Please take a look at our FQ10 Safety and Cleanliness Standards and Procedures. Then please take a few minutes to take this survey here.
4. Attention Seniors! We have listened to your requests and are introducing Senior Hours next week Monday through Friday from 10am-12pm in the "Roots" upstairs! If you want to come and train with your trainer or workout on your own and you are one of our stud seniors (60 years +), know that we are reserving the upstairs "Roots" gym just for you for a couple hours every day 🙂
5. Reminder that we still have a full schedule of virtual classes available for all clients and members through June on the Fitness Quest 10 Connect FB page. In addition, all of our trainers and Pilates instructors are available for virtual training over Zoom. As much as we want to see you back in the building, we want to make sure that you have every opportunity to get your workouts in during this time.
Thank you all for your continued love and support. We are dedicated to serving you and please do not hesitate to reach out and let me know how we can help you. Email me at jeffkbristol@gmail.com or call the gym at 858-271-1171 and we can set up some time to chat.
Have a great weekend and hope to see you soon!
Jeff Bristol
General Manager
Fitness Quest 10